Yeah sure, we've all heard it. London's one of the most expensive cities in the world.
But what if it doesn't have to be? What if there is a way to see London that won't crimple your finances? What if I've got all the tips and tricks to make your visit to England's capital so cheap you'll be wondering why you've been spending your hard-earned pennies on over-priced hotels and restaurants for all of these years?
I've lived in London as a broke student, as an unemployed professional and as a newly self-employed writer, and I can confidently say that I've unlocked a fair few secrets to penny-pinching in the capital. From finding cheap accommodation in London to hunting down budget eats in every suburb, I've cracked it.
So, with my wealth of experience, I'm here to tell you how to do London on the cheap, without compromising on that quintessential city break experience.
Visiting London for the First Time
Visiting London for the first time may seem daunting, and it's true if you're not careful, London can cost you an arm and a leg. In certain suburbs, particularly in the west end, you'll be surrounded by high-end restaurants and luxury shopping brands. But the beauty of London is in its versatility. Head just a few streets across and you'll be surrounded by a totally different calibre of shops, restaurants and hotels.
So my advice to you as a newbie, along with the advice in this post, is to look around, take you time, do some research and you'll definitely uncover a few tips that will let you see London on the cheap.
Finding Cheap Accommodation in London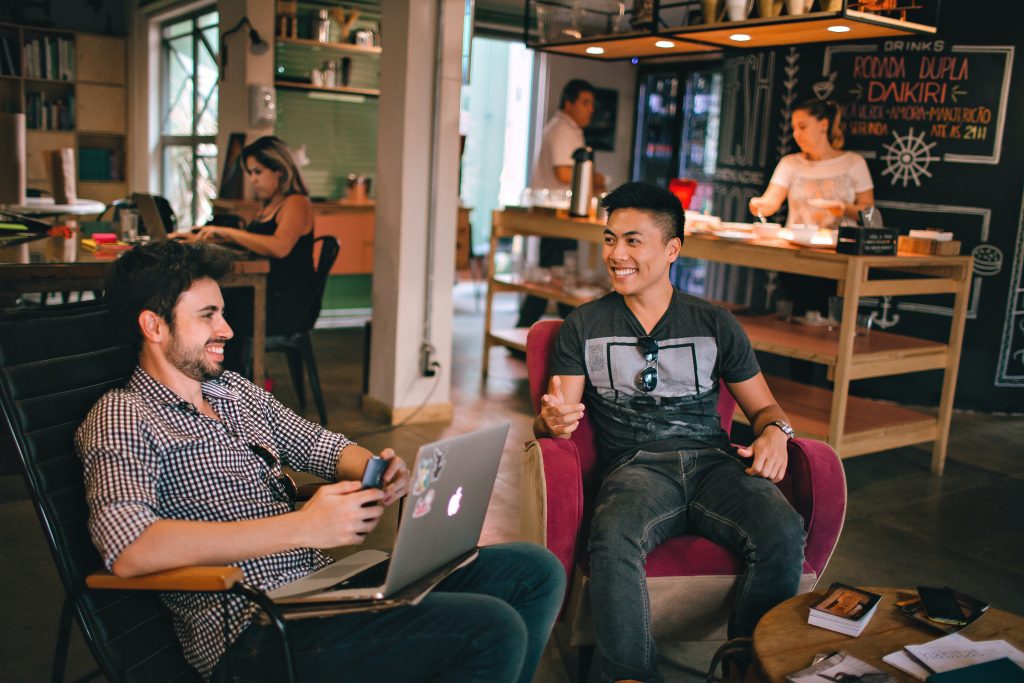 Accommodation in London is where you're probably going to need to compromise. Unfortunately, high prices are just the way it goes in such a popular city like this one. But there are three easy solutions to finding cheap accommodation in London, and that's hostels, Airbnbs and relying on the kindness of strangers, or soon-to-be-buddies, as I like to call them.
Hostels
If you're a little sceptical of the second choice then I'll talk you through hostels in London first.
There are hundreds, and by hundreds, I mean about 280 hostels strewn across London that are willing to offer you a bed for between £15 and £30 a night. Cheap accommodation in London used to be limited to certain suburbs, and although there are some suburbs where you'll get more for your money, you'll still be able to find a hostel in most areas of London.
As a rule of thumb, the further you're willing to stay from the centre of the capital, the cheaper it gets. For a happy medium, Camden is smack bang in the middle of everything, and big hostels like Hostel One Camden get great reviews. If you're keen to stay in the king of all hostels in the city and don't mind paying within the highest bracket for a dorm room then I'd really recommend staying at Wombats.
Airbnb
And then there's Airbnb – a great option for budget travellers who prefer a bit more personal space. If you have a good search on the platform, you'll find private rooms in homes for the same price as a nice hostel (£30ish) – but you'll still need to share communal facilities with whoever's home you're staying in.
And, if you're willing to just push the budget out just a little bit more to between £50 to £60 a night, you might even find an entire flat or studio in the outer suburbs. Get in quick though, these listings don't hang around for long.
CouchSurfing
CouchSurfing is by no way for everybody, but as someone who was originally sceptical, I'd recommend giving it a go. For those who are unfamiliar, CouchSurfing is a platform that connects travellers across the world, by advertising free rooms to stay in and meet and greets in a certain city. It's a great money saver, and you'll probably end up meeting some lovely local folk who can give you heaps of tips on how to enjoy the city like a local!
Eating on a Budget in London
Markets, street food, markets and Soho.
That's pretty much everything you need to know about eating on a budget in London.
Markets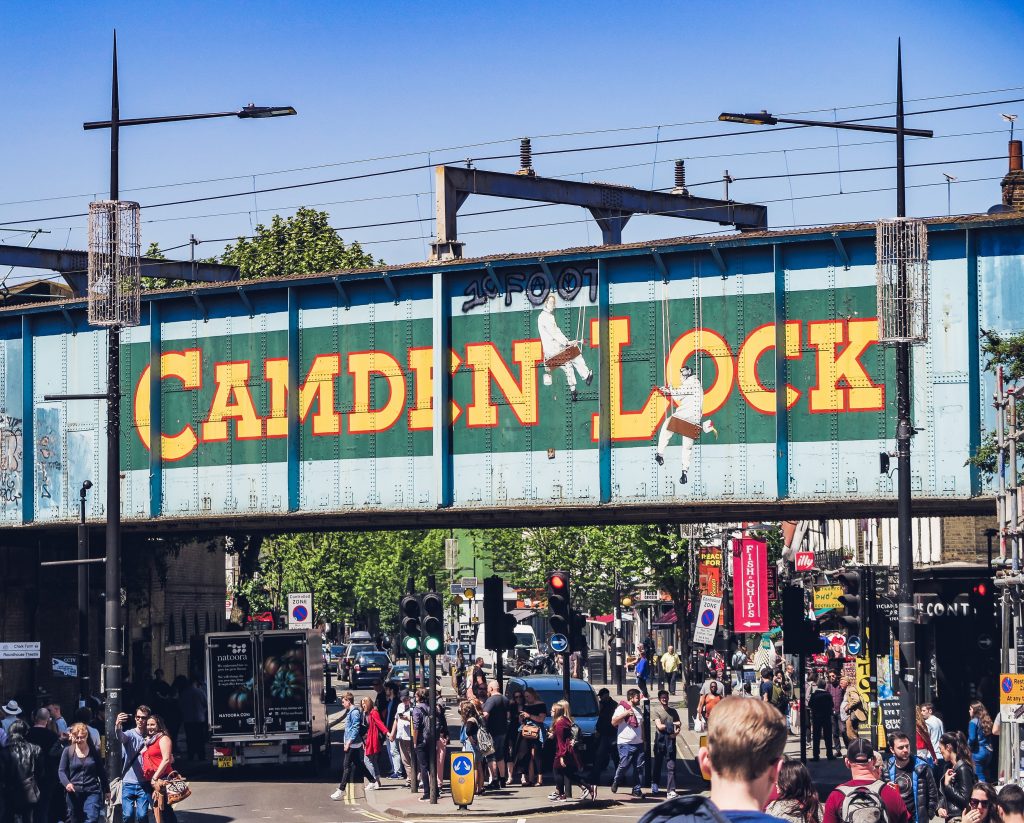 You'll never be too far from a market in the capital, whether it's a permanent feature or a one-off pop-up. If you're not too keen on the idea of cooking during your trip and eating out is definitely on the cards then check out some of my top recommendations for markets in the capital.
Camden Market, Camden. Possibly the king of street eats in London is the market in Camden. It's recently had a huge facelift and the food stalls are looking much smarter than they used to. You can pretty much eat from every corner of the world here. Think Peruvian corn fritters, Italian risotto and Burmese mutton curry. Better still, most of them won't cost you more than a tenner and it's open pretty much all of the time.
Borough Market, Borough. Borough Market is a sort of hybrid between food stalls and farm producers who have all come together for the same thing – to celebrate local produce. Whether you're looking for a quick sandwich, an afternoon cake and coffee or a more substantial meal – you'll find it here. Just make sure to hunt around as some stalls put a premium price on their food due to the location. Open every day except Sunday!
Southbank Centre Food Market. Southbank Centre Food is great because it's in a central location for most, but it's not so great because it's only open on Fridays, Saturdays and Sunday. It's mainly local street eats here, with food ranging from £5 to £10 and dishes from all over the world! Whatever you do, don't miss the duck confit burger for less than a fiver.
Restaurants
If you're after more of a restaurant experience, then Soho is always my go-to spot for a sit-down meal. These hole-in-the-wall eateries not only serve up some of the best food in the city, but also make eating on a budget in London easy. Stick to the area around Greek Street and you'll be in safe hands. A few of my personal favourites have to be:
Hoppers for insanely tasty Sri Lankan curries and of course, hoppers.
Kiln for authentic and unusual Thai dishes.
Koya Bar for a hearty bowl of udon noodles.
If you're after a little more of an upmarket experience, but don't want to pay full price there are two great tips for this: pre and post-theatre menus and lunch-time menus at Michelin starred restaurants. Thank me later!
A Guide To Cheap Transport In London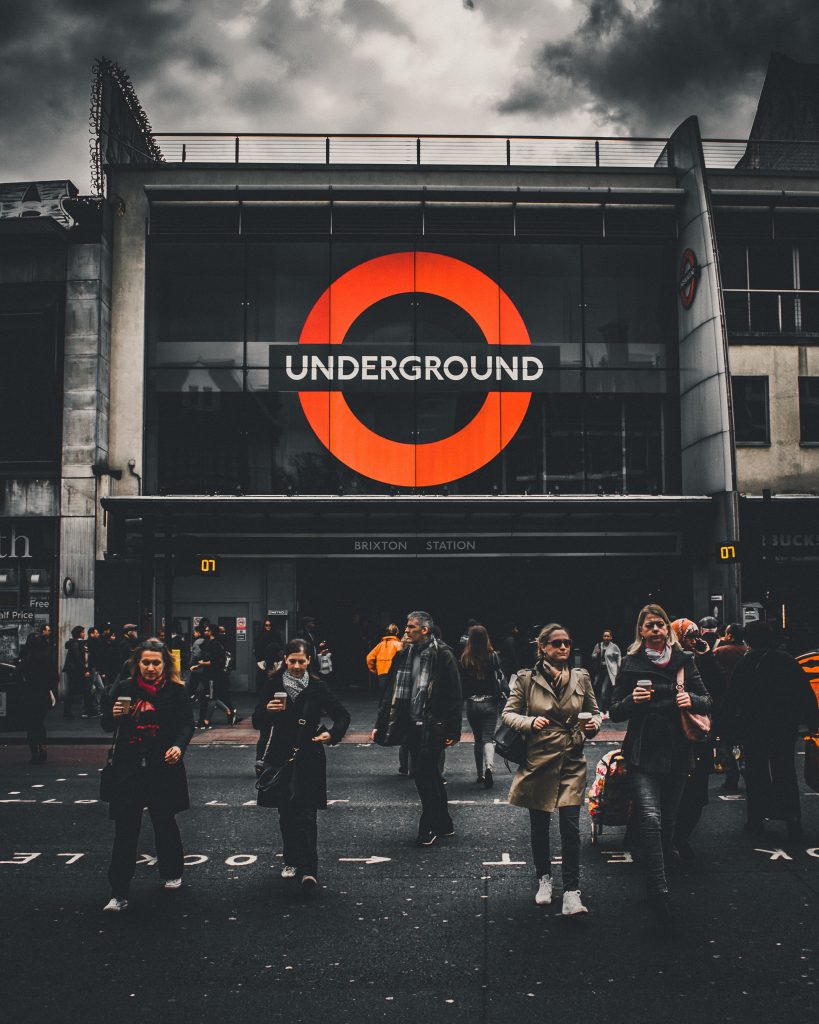 I'm sure you know that London's a pretty big place, and if you're spending a couple of days in the capital, then you're probably going to be hopping across different suburbs quite a lot. There's no quick fix to keeping transport costs low in London, but there are a few different tips and tricks to consider.
Anyway, here's our top-five guide to cheap transport in London. The Big Smoke has the double bragging rights of being one of the world leaders for sustainability in transport, whilst also having legitimate, well-organised cheap options to get about.
Walk. Lots of London's main attractions are closer than you might think. For example, if you're visiting Camden Market, you'll easily be able to walk to Primrose Hill, Regents Park and even London Zoo without having to jump on a bus. I'd really recommend downloading the CityMapper App, which sets out all of your options in front of you and how much they'll cost.
Go contactless. Use an Oyster card or contactless debit card to tap in and out on buses and the tube. A single fare on a contactless payment only costs £2.40 whereas a one-off ticket purchase can be upwards of £4.50. Contactless cards also automatically stop charging at the daily and weekly limits.
Use the bus. Buses are a lot cheaper than the tube, costing just £1.50 on average for a journey and £4.50 for the whole day. Plus you'll get to see all the sights along the way. Check out bus route 88 for the ultimate sightseeing tour.
Travel off-peak. Zone 1, which is where the main attractions are, is cheaper to travel in during off-peak times. These are any times that fall outside of 6.30am to 9.30 am or 4 pm to 7pm Monday to Friday.
Try a bike. Most cities have public bikes nowadays, where you can pay to hire them from one point and drop them off at another. In London, these are known as Santander Cycles and cost just £2 for 24 hours, plus a small deposit that you'll get back when you return the bike in one piece!
Psssst. Bonus tip: Add value to your London experience with any of these brilliant offline apps. No wi-fi, no problem!
Best Offline Apps for All Areas of Life: The Ultimate Guide
Best Free Museums in London
Heading to a free museum in London was one of my go-to things when I was feeling, well a little broke. I discovered some real gems, as well as revisited lots of favourites during my many years in the city. Here are my picks of some of the best free museums in London.
British Museum. This one is worth visiting for the architecture alone, with a beautiful domed interior that you've almost definitely seen on Instagram somewhere. Untrue to its name, the British Museum provides more of an overview of human history starting from the tombs of Egypt.
Museum of London. If you're stuck wondering exactly how London became the cosmopolitan city it is today, then head to this place where extensive exhibits depict the city's natural history from Roman settlement to present day.
Natural History Museum. Sat in the middle of bustling South Kensington, this is probably one of the busiest free museums in London. It's famous for a huge dinosaur skeleton that once sat proudly in the main hall. This has since been replaced by an equally cool blue whale skeleton, and there's loads of other ways to discover the natural world here too.
Science Museum. Also in South Kensington, it's worth combining a visit here with your visit to the Natural History Museum. Slightly different from its neighbouring museum, this place offers up an insight into a myriad of scientific and technological advances that have changed the way the world works.
National Portrait Gallery. This museum's claim to fame is having the largest collection of portraits in the world, and all under one handy room in Trafalgar Square.
Tate Modern. The Tate Modern is definitely one of the best free museums in London, especially if you manage to catch it when there's an installation in place in the turbine hall. It's dedicated to modern art from around the world, so expect to see some interesting and quirky pieces!
Victoria and Albert Museum. Ahh, the V&A! This place is undeniably amazing with a beautiful courtyard space surrounded by halls and galleries of objects from the world of art and design. The main area of the museum is free, but there are always a few other exhibitions working checking out that ask for a small entry fee.
Wellcome Collection. This was right next to my university near Euston Station, so I used to pop in all of the time. Exhibitions are based on science, medicine and the human body and there's always some kind of cool interactive exhibition to see (for a small fee). This place also has a really lovely cafe and a great selection of books in the gift shop.
10 Amazing Free Things to do in London During the Day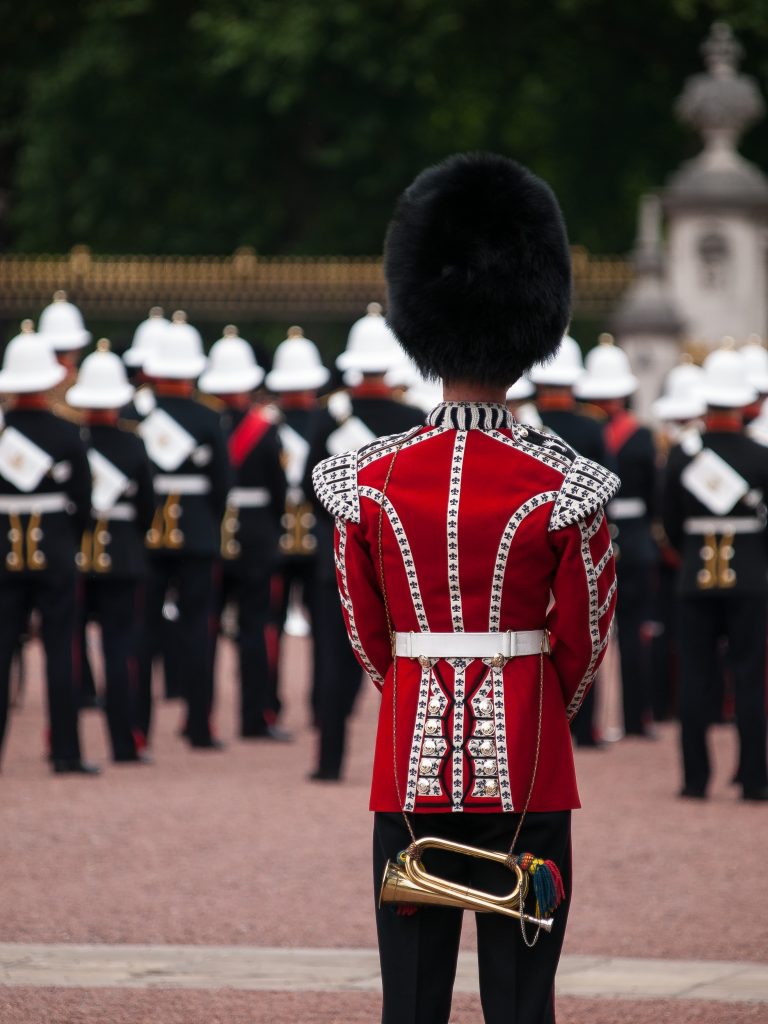 I reckon you could spend a whole weekend in London without spending a penny on activities. Here are just 10 amazing free things to do in London during the day, but I assure you that there are many, many more!
Check Out the Best Free Museums in London. Honestly, there's loads of them peppered all across the capital. Start with the ones I've recommended above and then branch out to a few smaller places like the Serpentine Gallery or London Dockland Museum.
Join a Free Walking Tour. If you need to find your feet in the city, a free walking tour is the best way to do it! Join a tour and be led by a knowledgeable local who will let you in on the history of the city and give you some insider tips for exploring.
See the Iconic City Sights. Places like the London Eye, Big Ben, Tower Bridge and the Houses of Parliament are some of the things that make London, well… London! And, they're all free to admire from the outside, which is good enough to get a quick snap.
Picnic in a City Park. From Hyde Park to Regents Park, Richmond Park to Hampstead Heath, London is known for its fantastic green spaces. Some are home to formal gardens, others to a herd of deer, but all of them are great places to chill out for an hour and enjoy some lunch.
Admire the Views from Primrose Hill. It's no secret that Primrose Hill offers up some of the best cityscapes of London. I'd highly recommend heading there for sunset – there may be crowds but the views are stunning.
Visit London's Very Own Little Venice. This series of skinny canals and tiny waterways in North London are a great place to grab a bite to eat from one of London's best independent eateries or just go for a pleasant stroll.
Seek out Platform 9 ¾ in Kings Cross. Potterhead or no Potterhead, a visit to this iconic spot in London has to be on the cards! You won't struggle to find the platform in Kings Cross Station, just follow the crowd!
Take a Snap of Neals Yard. Tucked away in a colourful part of Covent Garden is the lovely Neal's Yard. Here, you can grab a bite to eat, check out the products at Neal's Yard skincare or just take a photo of the brightly ablaze walls.
Attend a Free Concert at the Royal Opera House. Every so often, artists from the Royal Opera House come together to perform a free 45-minute concert for the general public. You don't need tickets, just turn up and hope there's a space!
Watch the Changing of the Guard at Buckingham Palace. This unique ceremony takes place when the Queen's Guard must hand over his responsibilities to the new guard. This usually happens at about 11am each day but times can vary!
10 Fabulous Free Things to do in London at Night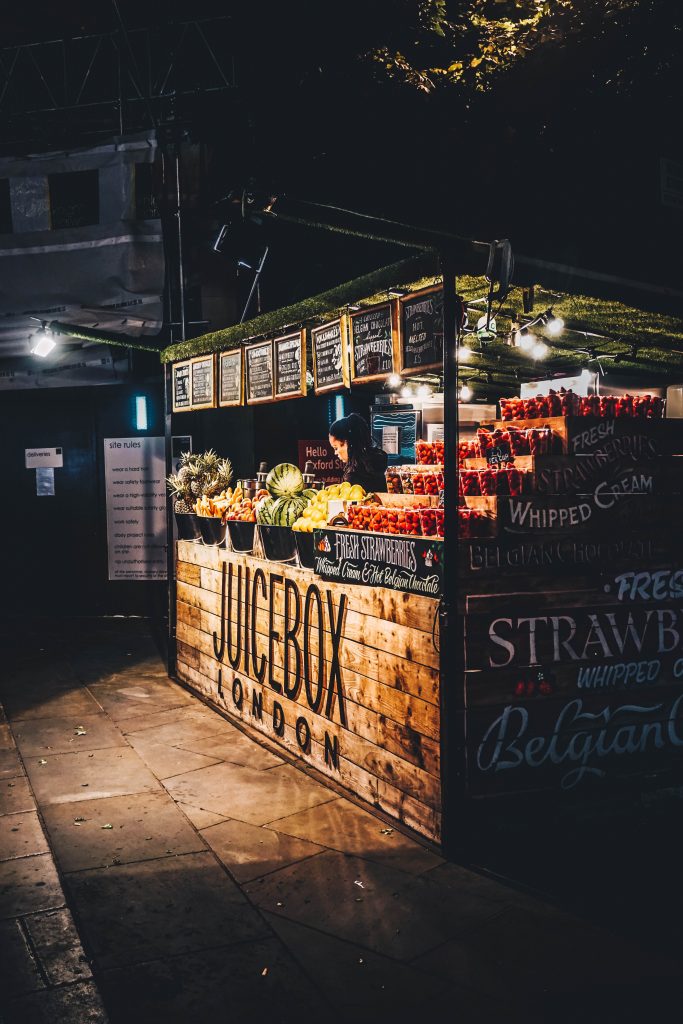 Sure, there are loads of bars and expensive nightclubs to pay entry to, but what if I told you there are loads of free things going on in London at night too? Well, there are! Take a read of my top free things to do in London at night,
Go to a Free Comedy Show. Comedy clubs have popped up all across London, and some of the more famous venues offer free entry to comedy shows seven days a week! I used to go to the Camden Comedy Club pretty regularly and it was always a good laugh.
Attend a Free Gig. During the week, the Hootananny Brixton is known to offer up free reggae, ska and folk gigs. You don't need to book in advance, just turn up and enjoy the good vibes.
See the Bridges Lit Up. Walking around London at night will give you a whole new perspective on the city. Its famous bridges that straddle the Thames are the best place to watch as the sun sets and the city lights come alive.
Go Late Night Shopping. Oxford Street is known for its great shopping, but sometimes the crowds can just get too much. At night, this popular street gets a little quieter but the shops stay open until 8 or 9pm, making it perfect for the slightly more laid back shoppers among us.
Take Advantage of Museum Lates. Once or twice a month, some of London's biggest museums open up their doors for a little longer. Some put on special events for its nightly clientele and most are free!
Watch the Billboards at Piccadilly Circus. Piccadilly Circus is known for its huge billboards that turn the area into a digital theme park. Seeing them in the day is cool, but during the night, the billboards seem a little more amazing.
Head To The Sky Garden. Sitting right at the top of the walkie-talkie building, the Sky Garden offers some of the best views of the capital! Entrance is free, but you'll need to buy a ticket a week before you want to go to secure your place!
Enjoy the Street Performers on Southbank. Musicians, magicians, dance groups… you name it, Southbank has it! Wander along this riverside parade and enjoy an evening of free entertainment.
Go Star Gazing at Hampstead Observatory. Between 8 to 10 pm, Hampstead Observatory opens its telescopes to the public for free! Check out what's hiding in the night sky above the capital.
Check Out the Ceremony of Keys. Believe it or not, this is a 700-year-old tradition where the Tower of London, which holds the Crown Jewels is locked up for the day. It usually takes place between 9.50 pm and 10 pm.
Cheap Day Trips from London For Those Who Want To Branch Out Of The Capital
To balance things out a little, you might want to leave the big smoke behind for a day in exchange for some of that great British countryside and quaint villages. Cheap day trips from London are actually in much more plentiful supply than you might think and here are the best of the best of them.
Stratford Upon Avon. The birthplace of Shakespeare is just a two-hour train ride away from central London, in a historic village (cobblestones and all!), known as Stratford Upon Avon.
Windsor Castle. Just 30-minutes away, Windsor Castle is one of the easiest cheap day trips from London. The castle itself is 1,000 years old and super impressive, but don't forget to check out the other sights in Windsor like Eton College and Dorney Court.
A classic British seaside town, and only an hour's train ride from London Bridge station. A day here can only be spent checking out the pier, playing a few arcade games and, of course, snacking on fish and chips.
A classic English university town where the cobbled roads are full of cyclists and the river full of rowers. The easiest way to get there is to book a national express bus in advance!
So this isn't super cheap, but If you book in advance on the Eurostar from London to Paris, you can actually find tickets for £50, and sometimes less! The train takes about two hours and drops you right in the centre of the city, perfect for a day of adventuring a la francais.